Clarendale of Mokena Honors Couple's 60th Wedding Anniversary
It's not every day you get to meet a couple celebrating their 60th wedding anniversary, so when Clarendale of Mokena senior living community heard about their residents' upcoming anniversary date, they knew they had to do something to honor the delightful couple—Mr. and Mrs. Castrogiovanni.
Ron and Evelyn Castrogiovanni were married on August 25, 1956 at St. Richard Parish Catholic Church. Approximately 500 guests attended the wedding mass that bright and warm 80-degree day when the flashbulbs first caught the picture-perfect married couple.
Nearly six decades later—to the day—the guest list was smaller, and the sunny location was different, but the wedding couple looked just as happy in their gown and tuxedo for their 60th anniversary photo at Clarendale of Mokena.
"When Mr. and Mrs. Castrogiovanni requested our private Belvidere Room for their anniversary party, I had an idea," says Julie Mangiaracina, Clarendale of Mokena's Director of Life Enrichment. "What if we could get area businesses to donate the items we'd need to replicate their beautiful wedding photo?"
It didn't take long for Mangiaracina to find area businesses eager to help Clarendale honor the couple and bring that idea to life. Bella Sposa Bridal Boutique, Black Tie Formal Wear, Bokay Florist and a professional photographer volunteered to donate their time, talent, wardrobe and accessories.
The Bridal Gown and Veil: Delighted to donate a gown for the special occasion, Bella Sposa Bridal Boutique helped the bride narrow her selections from six beautiful dresses to one. Then, the shop's seamstress made sure the gown was a perfect fit, adding straps to the dress to make the bride feel even more elegant.
"We made it a special occasion—as it should be for every bride. Evelyn wore her original bridal jewelry for our shopping trip to Bella Sposa to pick out the dress," Mangiaracina explains. "All the options were lovely, but when the bride tried on the veil with her favorite gown, and smiled from ear to ear, we knew this was the one."
The Groom's Formalwear: When it came to the groom's tuxedo, Black Tie Formalwear not only volunteered to donate the tuxedo, they sent a fit consultant to Clarendale to take Mr. Castrogiovanni's measurements and delivered it to the community the night before the scheduled photo shoot.
"The people at Black Tie Formalwear were so generous with everything—including their time," says Mangiaracina. "They found, ordered and delivered the exact tuxedo style Ron wore on his wedding day—from the lapels to the cufflinks."
The Bouquet and Boutonniere: No wedding anniversary photo shoot would be complete without the perfect flowers and Bokay Florist couldn't agree more.
According to Mangiaracina, "Bokay Florist made and donated a lovely bridal bouquet and groom's boutonniere using the same variety of flowers in their original floral arrangements.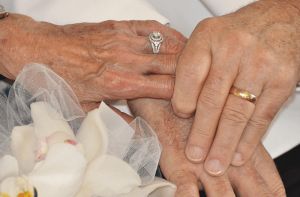 On the day of the photo shoot, Bella Sposa Bridal Boutique owner Jamie Ruggio
personally helped Evelyn get ready, and her bridal shop consultant, Lisa Alexander, who is also a professional photographer, snapped 300 photos.
"For me, this is what the job is all about," Mangiaracina says. "Making our Clarendale residents' days more enjoyable and giving them memories like this…it's just so rewarding!"
When the photo shoot was complete, Evelyn Castrogiovanni spoke for the happy couple, "When will we ever be able to do something like this again? Thank you for making this happen."
For those who volunteered the time, talent, wardrobe and flowers, the smiles on the couple's faces were thanks enough. After all, it's not every day you get to help a charming couple make their 60th wedding anniversary special. Congratulations, Mr. and Mrs. Castrogiovanni.
About Clarendale of Mokena
Clarendale of Mokena was developed by Ryan Companies US, Inc., and is managed by Life Care Services™, An LCS Company®. The senior living community offers 156 residences in three different neighborhoods for independent living, assisted living, and memory care—all under one roof. For more information about the community, Clarendale of Mokena can be reached by phone at (815) 464-4418 or found online at ClarendaleofMokena.com.
About Ryan Companies US, Inc.
Ryan Companies US, Inc. is a third-generation, family-owned national developer, designer, capital investment consultant, builder and real estate manager specializing in fully integrated solutions for over 75 years. Key market sectors include: retailers, industrial, healthcare, senior living, and corporate build-to-suit; and product experience includes work on office, retail, mixed-use, hospitality, multi-housing, industrial, medical office building, senior living, distribution center, public sector, and mission critical facilities. Ryan serves customers throughout the United States with offices in the North, Midwest, Great Lakes, SouthEast, SouthCentral, SouthWest and West regions. Ryan was named the 2007 National Developer of the Year by NAIOP, the Commercial Real Estate Development Association. For more information, visit www.ryancompanies.com.
About Life Care Services
Life Care Services™, An LCS® Company, established in 1971 and based in Des Moines, Iowa, is a leading manager of senior living communities. Life Care Services currently provides operations management and marketing and sales management for not-for-profit and for-profit continuing care retirement communities (CCRCs), stand-alone assisted living, memory care and rental communities nationwide. For more information, visit lifecareservicesLCS.com.