All the Warmth and Conveniences That Make a House a Home, But With a Bit of Added Midwestern Hospitality…
Assisted living at Clarendale provides all the comforts you want and expect. You will feel at home the moment you arrive, because you'll have the privacy and amenities you have always enjoyed in your own house.
Here, you will also receive the quality care and supportive services that allow you to live life to its fullest, including access to a trained caregiving staff 24 hours a day, ready to provide respectful assistance with the necessities of daily life.
Make Health & Wellness a Top Priority
Clarendale takes your good health to heart and focuses on all 8 dimensions of wellness with a wide range of activities as part of the Health & Wellness Navigation Program™.

Emotional Wellness
Opportunities for friendship, camaraderie, and meaningful relationships that are uplifting and affirm feelings of home and family.
Environmental
Wellness
Coming together to be good citizens of the planet, respect the environment, and manage resources effectively.

Health-Services
Wellness
Our signature programs including health and wellness navigation and EverSafe 360°, ensure the highest standards and protocols and safety.

Intellectual
Wellness
A commitment to lifelong learning and intellectual stimulation through classes, lectures, seminars, discussion groups, and outings.

Physical
Wellness
A focus on strengthening your body through exercise, nutrition, and stress management.

Social Wellness
Creating opportunities for socialization that lead to increased quality of life, feelings of belonging, increased mental function, and longevity.

Spiritual
Wellness
Opportunities to nurture your spiritual journey through a variety of services and programs.

Vocational
Wellness
Offering chances to contribute talents, wisdom, and experience to others through volunteerism, both on campus and in the surrounding community.
Choose 3 Delicious Meals Daily
Assisted living at Clarendale treats you to full-service dining anytime you wish with chef-prepared dishes for breakfast, lunch and dinner. You'll have a choice of venues designed to make mealtime a delicious experience.
Dining Room Bistro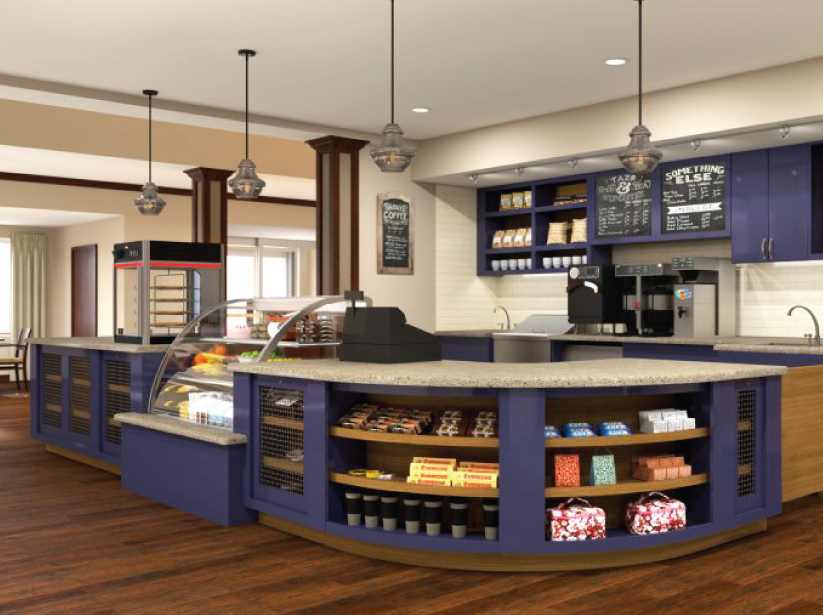 Fine Casual Dining

You'll find your mouth watering just thinking about the ever-changing menu of chef-prepared meals in the Dining Room. Let the culinary team treat your taste buds to regionally-inspired dishes sure to satisfy all palates.

That's not all! The Hickory Private Dining Room is the ideal destination for private parties and events honoring Clarendale residents with cause for celebration, including birthdays, anniversaries and family get-togethers. Catering services are available to make each event perfect.
Download a sample menu (PDF).
Popular Bistro Faire

You won't have to go farther than the Bistro in the open foyer and gathering space to grab a great sandwich, homemade soup or fresh salad—prepared daily for dine-in or carry-out.

The Bistro is also a popular meeting spot for coffee and a sweet treat with friends. Plan to drop by mid-morning or mid-afternoon for a little caffeine pick-me-up and muffin, pastry, pie or cake!
Download a sample menu (PDF).
FAQs
Assisted living gives you the helping hand you need to keep active, stay engaged, and pursue your passions. You'll live in a beautifully appointed apartment home and receive assistance with the basic activities of daily living, tailored to your specific needs, such as help with bathing, dressing and grooming, medication management, and personal maintenance. Nursing homes, on the other hand, are for those with chronic medical conditions or disabilities, or those in chronic pain, who require round-the-clock care and supervision by licensed skilled nursing professionals.
There are a variety of options families use in order to help pay for assisted living. Below are a few that you may want to consider: Long term care insurance, Life insurance, Veteran's benefits, Sale of a home, Reverse mortgage, Bridge loan, Annuity. We suggest you consult with a financial advisor to discuss which would work best for your family.
Yes! Clarendale is a pet friendly community. We know that "you just wouldn't be you" without your beloved pets. They're like members of your family, and here, family is always welcome!
"Staff is nothing short of amazing. They are so hardworking and friendly. They gave us such comfort in good times and bad times. We knew my Mom was well taken care of and that in itself was worth the world!"
— Testimonial from Kimberly
"My mom has enjoyed having her independence while giving her kids the peace-of-mind knowing that she is safe and secure. Clarendale has given her the socialization that living alone could not. She is happy and in turn so are we!"
"The staff is proactive and experienced. Every question and/or concern has a legitimate answer or solution. Overall, the people who work at Clarendale of Mokena care about the residents. It is illustrated on the faces of those whose lives they touch."
—Testimonial from Michael
"Thank you to Clarendale for making Mom's surprise birthday party a huge success! The service was top notch, food and desserts were delicious, and the room was beautifully set up. Our mom had a blast…so glad we could pull off this big surprise!"
Still have questions about assisted living at Clarendale of Mokena?
Contact the senior living experts at Clarendale directly by calling or scheduling a visit.
Contact Our Team